---
Key Point:
Part workshop, part listening pilgrimage, training by the African Higher Ministries expands resources and encourages discipleship across the continent.
Sessions were held in five countries: Angola, Botswana, Ivory Coast, Kenya and Zimbabwe.
Participants learned how to write inspirational daily prayers by reflecting on personal experiences or using Bible texts as guides.
---
United Methodists were among a variety of Christian leaders who were trained to write their daily devotions during a two-day writer's workshop and pilgrimage hosted by African upper echelon ministries.
Held at the Four Points Hotel in Nairobi on June 21-22, more than 20 attendees reflected on their personal experiences and used Bible texts as guides to find inspiration. I learned how to write a daily prayer to give.
Five countries – Angola, Botswana, Côte d'Ivoire, Kenya and Zimbabwe – have trained dedicated writers to continuously grow the work of the African upper echelon on the continent.
Reverend Sidwell Mokugotu, Bishop of the Limpopo Synod of the Methodist Church of South Africa and chairman of the African Higher House Ministries, said the Ministry of Publishing would provide a platform for stories and amplify the voices of the African people.
"The Upper Room Devotional is about ordinary people's spiritual life experiences," he said, noting that the majority of current contributors are from the United States. "It is good to receive from others, but Africans also have something worth sharing with the world."
During the training, participants were instructed in writing various elements of the devotional, including Bible texts, meditations, prayers, thoughts of the day, and prayer focus. Each devotional did not exceed her 300 words.
"Writing helps us move beyond our oral traditions and reach many people," said Mokugotu.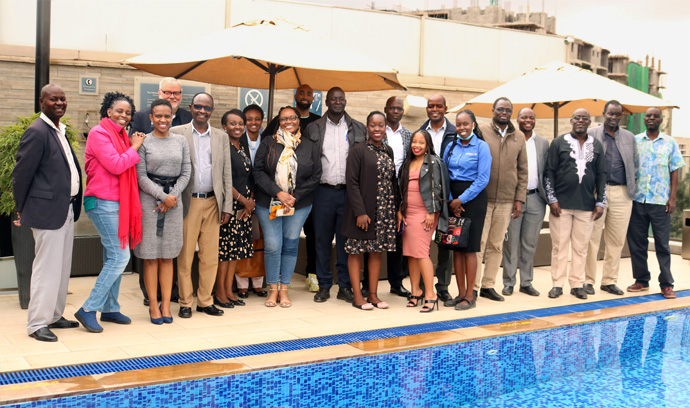 Attendees at the Africa Upper Room Ministry's Committed Writers' Training, June 21-22, outside the Four Points Hotel in Nairobi, Kenya. Photo by Gad Maiga, UM News.
Beginning in 1935 as a daily prayer guide, The Upper Room has grown to include publications, programs, prayer support, and other resources. This ministry is housed in the Discipleship Ministry, an institution that facilitates discipleship across denominations.
Africa Upper Room Ministries was founded in South Africa in 2002 as a new model of international ministry, drawing people from across the continent to practice the daily discipline of reading the Bible, praying and sharing the journey with Christians around the world. I was.
Mokugotu, who provides strategic leadership and governance for the Africa Upper Room, called the training and pilgrimage a major achievement.
Mentioning the resource challenge, Mokugotsu said it is important to have people who can volunteer their time, talent and expertise.
"The challenges we faced are the usual challenges of the continent. They are mainly about the level of poverty.
"Ordinary people who deserve our resources cannot afford them," he continued. "Our work is a ministry, not a business. There is a challenge of balancing distributing these resources to those who need them most, and maintaining the ministry."
Operations Manager of Africa Upper Room Ministries, Tumi Mogodi, led a devotional writing workshop in Kenya. She shared why the training is called "The Listening Pilgrimage."
"We weren't a group of tourists, but a team of pilgrims carrying out a sacred mission of discernment that included listening to each other and to God," she said.
"We listened to those who spoke to us about their context and what their wishes and hopes were regarding our work. It's about sharing what's happening and responding in a responsible way."
subscribe
e-mail magazine
Like what you are reading and want to see more? Sign up for free daily and weekly digests of important news and events in the life of the United Methodist Church.
Please notify me!
Mogodi said it is important to create an implementation strategy based on resources.
"Our greatest responsibility is to create a space for God's people to participate, contribute, and own this ministry as their own," she said.
Mpho Raadt, Digital Marketing and Sales Officer for Africa Upper Room Ministries, said the goal is to create a purposeful Pan-African ministry with a large footprint across the continent.
"We need to heal Africa from colonialism, imperialism, coups, corruption and the scars of war that happened in the past and continues in many forms today," Raadt said.
Reuben Ososo, laity leader of Cayore St. John United Methodist Church, said Upper Room training is an excellent resource for improving committed writers.
"With a desire to know more about God, I am grateful for the opportunity to participate in this ministry that supports the spiritual formation of Christians like us," he said.
Reverend Wilton T. Odongo, Nairobi district director, said the training would empower Kenya's Christian community.
"We are grateful to[African High-Level Ministries]for providing important resources to help us connect with God every day and contribute to the spiritual growth of others," he said. .
Executive Director of The Upper Room, Peter Velander, said he is happy that Upper Room Africa is reaching out to people across borders to share their stories of faith.
He was one of three leaders of the Upper Room who traveled to Africa to train writers.
"We hope to continue to provide spiritual resources to help Christians navigate their faith in relation to others and God's creations.
Gad Maiga is a communicator for the Kenya-Ethiopia Conference. News Media Contact: Julie Dwyer at [email protected]To read more United Methodist news, visit SUBSCRIBE TO FREE DAILY AND FRIDAY DIGESTS.