September 6, 2022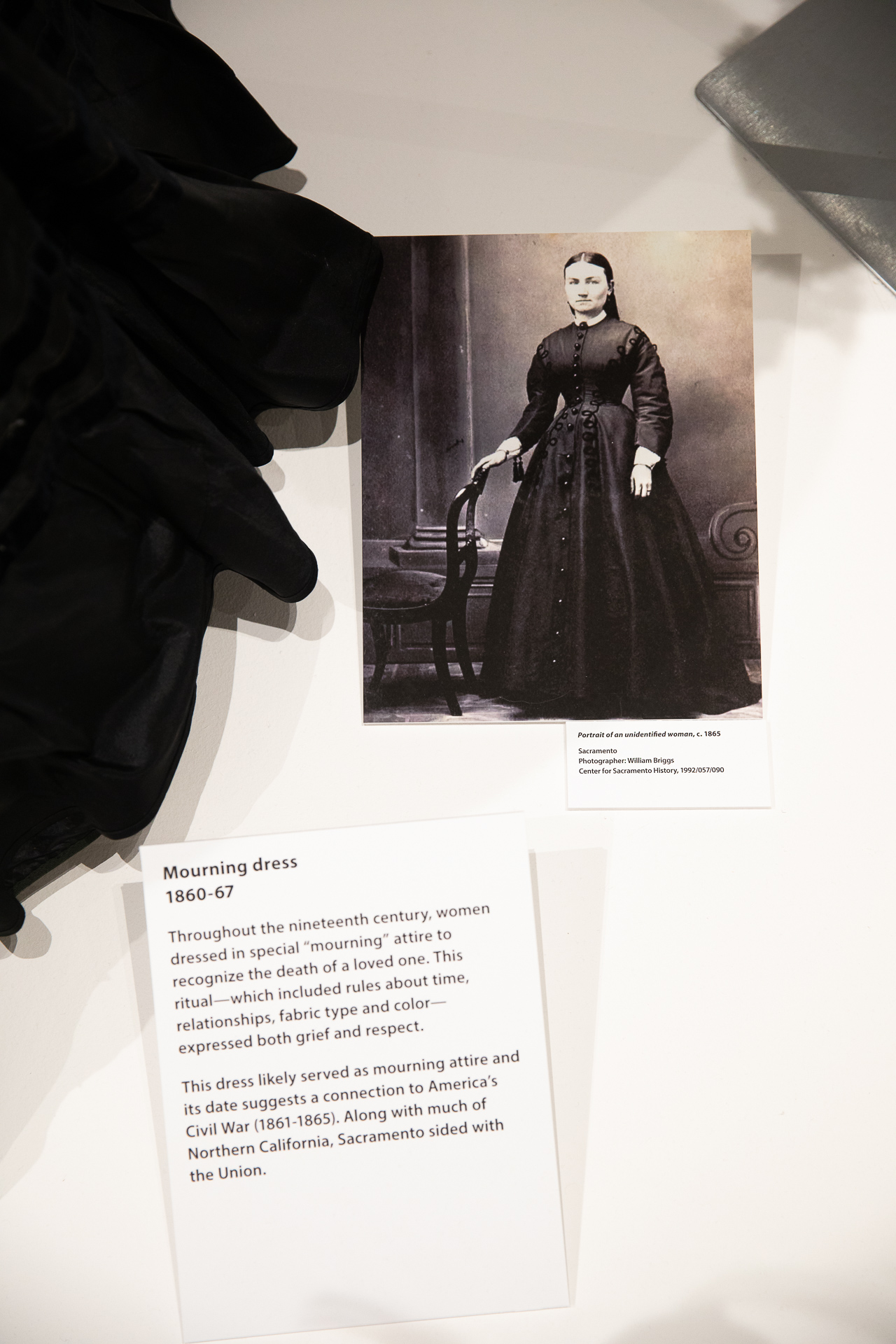 Sacramento State University opens its closets to unveil a vast collection of historic clothing and accessories. Even fashionistas may become the envy of Hornet Green.
"Dressing Sacramento: 120 Years of Fashion," on display in the University Library Gallery through October 8, is a public showcase of the Sacramento State Costume Collection, featuring apparel worn during various fashion eras from the 1860s to the 1980s. It's public. beyond.
The collection includes Civil War-era mourning clothes, intricate 1920s beaded "flapper" dresses, lace gloves, pill-box hats, purses, shoes, jewelry, and much more. .
"This is a hidden gem," said Fashion Merchandising and Management (FASH) Program Coordinator Professor Dong Shen. "There are so many stories and histories embedded in those works.
"We have a responsibility to introduce them to a wider audience."
Stored in a windowless, environmentally controlled vault at Mariposa Hall, the collection has grown over the decades with the donation of more than 500 works by faculty, staff, community members, and local businesses. did.
However, they were never cataloged or made available to the public.
"Our department has access all the time," says FASH Instructor Taylor Anderson. "Instructors enter collection closets and bring out pieces, mostly for design reference or to show students specific techniques and structures.
"But we want to introduce it to the entire Sacramento community and the rest of the Sack State community, not just the students taking classes in our fashion program."
The moment Shen saw the collection over 20 years ago, he wanted to display it.
"I wanted to do something about it," said Shen, who teaches a fashion and consumer-related course at the School of Family and Consumer Sciences. "But that wasn't my area of ​​expertise."
Shen was waiting for someone like Anderson, who has a background in fashion history and sociology.
They began cataloging their collection in the fall of 2018, but the COVID-19 pandemic hit before they could open an exhibition. There were repeated postponements until "Dressing Sacramento" finally opened in late August.
The exhibit includes stunning works dating back to the 1860s, takes visitors through the Roaring Twenties, World War II, the tumultuous 1960s and 80s, and welcomes visitors to Sack State University in 2019. ends with a costume created by a student of
"Dressing Sacramento" does more than spotlight fashion trends.
Combined with archival photography of local people and places, the exhibition puts fashion into historical, social and cultural contexts. For example, a Prohibition-era loose, drop-in-the-waist dress designed to swing to jazz music in dance halls such as M Street. A cafe in the old Japanese town of Sacramento.
"Fashion is something that is so easily dismissed because we take it for granted," said Anderson. "But in reality fashion is a medium and a platform for discussing so many aspects of our culture, society, history, politics and human behavior."
Veronica Kandol, a curator at the Sacramento History Center, helped Anderson select photographs of Sacramento people by providing suggestions and granting access to an online database of images.
"I'm really happy that we started working together," Kandol said. "We want the collection to be used and we want to work with schools.
"I've worked with an intern at Sack State University, but we don't have a fashion program rep. So for me, it's really exciting. , I think it's going to be really interesting for people to see."
A grant of approximately $3,000 from University Enterprises, Inc. paid for photographic enlargements and acid-free archival materials to create a display that would not damage the exhibit's fragile fabric.
Many of the historical pieces don't fit on modern mannequins, so Anderson and her students created special dress forms with 20-inch waists and S-shaped silhouettes popular in the Edwardian era. I had to.
One student made a historically accurate cage crinoline and petticoat underneath a hand-stitched mourning dress that dates back to the 1860s.
"Without these structures, the dress won't sit right. It might work, but it won't look like it did when you were walking down the street," Anderson said.
The story continues below the photo.
The exhibition is also a way for the university to share its collection with the community to which it has donated all its works. Shen and Anderson said they hope schools and senior centers will organize trips to the exhibition.
"When our students see the work, they see the value in the fascinating facts behind the work," Shen said. "Can you imagine bringing in different age groups who can see the history they have lived, like the elderly? Or what about high school and middle school?"
The FASH program is working to catalog the entire Sacramento State Costume Collection and make it publicly available online.
Dressing Sacramento: 120 Years of Fashion runs through October 8th. The reception he will be on Thursday, September 8th from 5pm to 8pm with opening remarks at 6pm.
The University Library Gallery is open Tuesday through Friday from 10 AM to 4 PM and Saturday from 12 PM to 4 PM.
For more information, call (916) 278-4189.