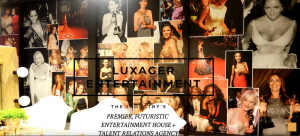 Luxager Entertainment, a unique futuristic agency
Leading the Future of Entertainment, Luxury and Fashion + Widely Recognized as 'Unique, Innovative and Disruptive'
I've long thought about leading the disruption of the industry with futurism. Luxager's DNA is to create unique and interesting content, tell different brands his stories, and provide strategies with greater insight. "
— ATHÉNA, Founder of Luxager Entertainment
LONDON, UK, Sept. 5, 2022 /EINPresswire.com/ — Artist and futurist strategist ATHÉNA is committed to creating a global PR agency through the launch of a rebranded entertainment content house, talent/celebration and global PR agency. Once again staying at the forefront of the industry. The luxury fashion strategy agency intended to disrupt and digitize the industry – until the hit of COVID completed what she set out to do. Bringing another in-house crafted angle of creativity, futurism, innovation and strategy mixed with sales.
Since 2015, ATHÉNA has foreseen the fashion disruption of 2020. This is after creating the idea of ​​a shoppable video mobile app that aims to disrupt the way people shop forever through an exhaustive research into the future of fashion and innovative store concepts.
Just days before the March 2020 pandemic lockdown, ATHÉNA launched a luxury fashion strategy consulting firm with the goal of advocating for innovation and helping brands achieve digital excellence.
Needless to say, she was completely unaware that, thanks to COVID-19, what she had long hoped for was about to come true… The sudden mass destruction caused by the global pandemic has turned the fashion industry into virtual technology. and turned into a complete chaos of digital transformation.
Under ATHÉNA's leadership, the company has attracted top talent to produce insightful strategic reports with a unique perspective and a good understanding of international culture. Combining strategy, art, innovation and deep insight, Athena's unique spirit allows her to create top picks. Luxury | Fashion agency described as 'Unique & Disruptive'.
What's ahead of the new Futuristic Agency is even more exciting and unprecedented. It will truly 'enjoy' luxury and fashion. ATHÉNA is undoubtedly an innovator in entertainment, luxury, fashion and digital, with many industry-leading companies under its umbrella, including Vanity Fair, Fox, Sony, MGM and Saks. Handling luxury brand products (Louis Vuitton, Chanel, Dior, Gucci, Fendi, Saint Laurent, Valentino, Prada, etc.) in luxury stores and e-commerce. She has also won MGM and other fashion TV shows in her competition.
ATHÉNA has been praised by industry leaders as 'worth thinking about where the industry is going and learning from it'. "Incredible experience, met high expectations and did a great job creating her brand. Every client she works with with her team expects the best service and the smartest insights." I can do it."
As an artist trained at the most prestigious performing arts schools in the UK, France and the US, ATHÉNA is described as 'unique', summarizing her unparalleled prowess in creativity, performance and storytelling. It is often said She has a natural talent since the age of two. On the other hand, she is also one of the best and most insightful strategists. She has the unique and extraordinary to combine both her talents to offer her partners and brands something unique.
With a unique positioning, futuristic, entertainment and strategic background, Luxor Jar Entertainment recently received a number of awards from entertainment, fashion, luxury, jewelry and beauty clients from around the world, including the UK, France, USA, Germany, Hong Kong and Singapore. are often approached. Entertainment partnerships, his PR internationally, entering new markets, celebrity/influencer marketing, organizing fashion weeks and launch events, virtual sales, strategy and more.
In addition, ATHÉNA is trained by some of the most successful business leaders and notable entrepreneurs. She is a valuable expert for media and can create interesting and insightful content for her readers.
About Luxager Entertainment
Luxager Entertainment is a forward-thinking, forward-thinking company that sets the bar high in building a leading global entertainment content house, talent and celebrity, and global PR agency with top clients in media/entertainment, luxury, fashion and beauty. entertainment and fashion house. Disturb and entertain.
Our unique creativity and innovative strategies create unique opportunities and partnerships for entertainment companies, brands and talent. We have a proven track record of raising the bar beyond customer expectations and are recommended by industry leaders for our reputation, quality of service, qualifications and experience.
For more information, please visit http://Luxager.Studio.
For interviews, please contact:
Athena
Luxajar Entertainment
press@luxager.studio